IS conflict: Coalition strikes on Raqqa 'killed 1,600 civilians'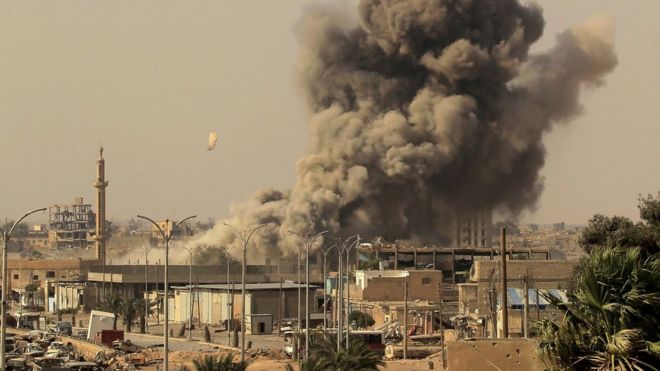 In excess of 1,600 regular people were executed in US-drove alliance air and gunnery strikes amid the hostile to expel the Islamic State bunch from the Syrian city of Raqqa in 2017, activists state.
Acquittal International and checking bunch Airwars said they had done examinations at 200 strike areas and recognized 1,000 of the people in question.
They encouraged the alliance to "end just about two years of disavowal" about such passings.
The alliance says there were 180 non military personnel setbacks in its battle.
Leaders express all practical safeguards to keep away from non military personnel losses were taken in those cases and that the choices to hit consented to the law of equipped clash.
'Caliphate' vanquished yet IS remains a risk
Who will help revamp the previous 'capital' of IS?
The city fit for nobody
Alliance states - including the US, UK and France - have led 34,000 strikes in Syria and neighboring Iraq since 2014, when IS activists overran vast swathes of the two nations and forced their severe principle on just about eight million individuals.
A month ago, the alliance supported Syrian Democratic Forces union caught the last pocket of land held by the jihadists, conveying a formal end to their self-announced "caliphate", whose accepted capital was Raqqa.
Picture copyright Reuters
Picture subtitle Raqqa was the true capital of the "caliphate" the Islamic State bunch proclaimed
Pardon and Airwars said that following a phenomenal examination they had the capacity to manufacture a database of the regular folks allegedly murdered as an immediate aftereffect of US, UK and French air strikes and US cannons strikes did in Raqqa from June to October 2017 in help of a ground hostile by the SDF.
Donatella Rovera, Amnesty's senior emergency reaction guide, said that IS "riflemen and mines had transformed the city into a demise trap" yet that "a significant number of the [coalition] air bombardments were wrong and a huge number of gunnery strikes were unpredictable, so it is nothing unexpected they executed and harmed a large number of regular citizens".
Pardon and Airwars broke down open source data, including a large number of online networking posts, to fabricate its database of the in excess of 1,600 non military personnel fatalities.
Specialists at that point went through around two months on the ground in the city, completing examinations at strike areas and meeting in excess of 400 observers and survivors.
They had the capacity to straightforwardly confirm the names of 641 unfortunate casualties, and there were solid different source reports for the rest, Amnesty said.
The "Strike Trackers" venture likewise distinguished when every one of the in excess of 11,000 demolished structures in Raqqa, with 3,000 advanced activists from 124 nations breaking down in excess of two million satellite picture outlines.
Reprieve and Airwars said the alliance had conceded obligation regarding 159 non military personnel passings amid the five-month hostile, yet that it had rejected a large number of their loss reports as "non-valid".
The alliance had neglected to satisfactorily examine the reports since it didn't do site visits or meeting observers and survivors, the associations included.
UN human rights specialists said in a report a year ago that the fight for Raqqa was "set apart by infringement submitted by all sides and came at an incredibly staggering expense to regular citizens".
Picture copyright AFP
Picture inscription The enormous undertaking of revamping the city may take years
An alliance representative told the BBC: "Any inadvertent death toll amid the annihilation of [IS] is shocking. Anyway it must be adjusted against the danger of empowering [IS] to proceed with fear monger exercises, making agony and enduring anybody they pick."
The alliance "deliberately utilizes noteworthy measures to limit non military personnel setbacks" and "dependably balances the danger of leading a strike against the expense of not striking".
The representative demanded the alliance paid attention to all claims of regular citizen losses and led intensive evaluations, however in the event that there was insufficient data or there was not an alliance strike that coordinated the time and area then the charge was shut.
"Acquittal International furnished us with 86 new claims in regards to Raqqa, 43 of which had just been evaluated as trustworthy and recently announced or were considered not believable in light of the fact that the charge did not prove with our strike records," the representative said.
"We mentioned that Amnesty International furnish us with extra data on the rest of the 43 charges in the event that they have it accessible so we would almost certainly decide if we could lead an examination."